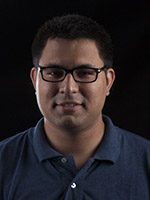 K M A Solaiman
Graduate Student
Graduate Teaching Assistant
Joined department: Fall 2016
Education
B.Sc., Bangladesh University of Engineering and Technology (BUET), Computer Science and Engineering (2014)
M.Sc., Purdue university, Computer Science (2022)
Welcome! I am a Ph.D. Candidate in Computer Science at Purdue University, working under the supervision of Prof. Bharat Bhargava. During my Ph.D., I have worked closely with Prof. Michael Stonebraker for the REALM/SKOD project. Previously, I served as a faculty member at Ahsanullah University of Science and Technology (AUST) and United International University (UIU).
My research interests revolve around heterogeneous data management in general, but the application areas of my work have been interdisciplinary, spanning from data discovery and novelty management to multimodal information retrieval, natural language processing, and video feature extraction. In collaboration with non-academic parties (e.g., West Lafayette Police Department, NGC), my systems are inspired by real-world use cases.
I am interested in designing mechanisms for identifying patterns and novelties in heterogeneous data sources toward a better understanding of the data, focusing on the explainability of the models to better use them for situational awareness.
Selected Publications
KMA Solaiman, Md. Mustafizur Rahman, Nashid Shahriar, AVRA BANGLADESH Collection, Analysis & Visualization of Road Accident Data in Bangladesh, in Proceedings of the 2nd International Conference on Informatics, Electronics & Vision (ICIEV), IEEE, Dhaka, Bangladesh, INSPEC Accession Number: 13684140, May 17-18, 2013
S. Palacios and K. Solaiman, P. Angin, A. Nesen, B. Bhargava, Z. Collins, A. Sipser, M. Stonebraker, J. Macdonald. SKOD: A Framework for Situational Knowledge on Demand. In Polystores and other Systems for Heterogeneous Data (Poly), at VLDB 2019, LA, California, August 30, 2019. (Co-First Author)
Michael Stonebraker , Bharat Bhargava , Michael Cafarella , Zachary Collins , Jenna McClellan , Aaron Sipser , Tao Sun , Alina Nesen , KMA Solaiman , Ganapathy Mani , Kevin Kochpatcharin , Pelin Angin , James MacDonald Surveillance Video Querying With A Human-in-the-Loop at HILDA 2020, Workshop on Human-In-the-Loop Data Analytics Co-located with SIGMOD 2020 (19 June 2020, Portland, OR, USA)
Solaiman, K. M. A., Tao Sun, Alina Nesen, Bharat Bhargava, and Michael Stonebraker. "Applying machine learning and data fusion to the missing person problem." Computer 55, no. 6 (2022): 40-55.
A. Nesen, K. M. A. Solaiman and B. Bhargava, "Dataset Augmentation with Generated Novelties," 2021 Third International Conference on Transdisciplinary AI (TransAI), 2021, pp. 41-44, doi: 10.1109/TransAI51903.2021.00015.
Last Updated: Dec 4, 2020 2:03 PM