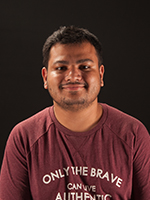 Imtiaz Karim
Graduate Student
Graduate Research Assistant
Joined department: Fall 2018
Education
Ph.D. , Purdue University (ongoing), Computer Science (2018)
Bachelors , Bangladesh University of Engineering and Technology, Computer Science and Engineering (2017)
I am a second year Ph.D. student in CS at Purdue University and working as a Graduate Research Assistant under the supervision of Professor, Elisa Bertino. I completed my B.Sc. from the Department of Computer Science and Engineering, Bangladesh University of Engineering and Technology in September 2017.
My research interests include security and privacy of cellular networks, smartphones, and IoT devices.
Apart from research, I enjoy cooking!
Selected Publications
Abdullah Al Zishan, Imtiaz Karim, Sudipta Saha Shubha, Ashikur Rahman, Maximizing Heterogeneous Coverage in Over and Under Provisioned Visual Sensor Networks, The Journal of Network and Computer Applications, Elsevier (JNCA), Volume 124, 15 December 2018, Pages 44-62.