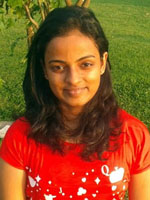 Hasini Thiloma Urala Liyanage Dona Gunasinghe
Graduate Student
Bilsland Fellowship - Grouped
Joined department: Fall 2013
Education
BS, University of Moratuwa, Sri Lanka, Computer Science and Engineering (2010)
Hasini joined the Department of Computer Science in Fall 2013 as a PhD student. Her main areas of interests in computer science are computer security and data science.
Hasini has worked on research projects related to secure authentication, security and privacy of online transactions, such as: privacy preserving biometrics-based authentication and preventing linkability in digital identity ecosystem.
Prior to joining Purdue, Hasini worked as a Software Engineer in the security team of WSO2 Inc. which is an open source application development software company focused on providing service-oriented architecture solutions.
Hasini obtained her BS in Computer Science and Engineering from University of Moratuwa, Sri Lanka, with first class honors.
Selected Publications
H. Gunasinghe, E. Bertino, "Privacy Preserving Biometrics-Based and User Centric Authentication Protocol", Network and System Security - 8th International Conference, NSS 2014, Xi'an, China, Oct 2014. (Best Paper Award)
Last Updated: Dec 4, 2020 2:03 PM