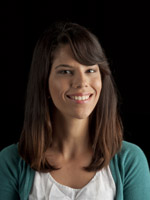 Giselle Zeno
Graduate Student
Graduate Research Assistant
Joined department: Fall 2014
Education
Bachelor of Science, University of Puerto Rico at Bayamon, Computer Science (2010)
Giselle is a PhD student with interest in the areas of machine learning, natural language processing, information retrieval, and data mining.
Selected Publications
Lippmann, R.P., Campbell, W.M., Weller-Fahy, D.J., Mensch, A.C., Zeno, G.M., Campbell, J.P. (2016) "Finding Malicious Cyber Discussions in Social Media" LINCOLN LABORATORY JOURNAL, 22(1).
Giselle Zeno and Jennifer Neville. 2016. "Investigating the impact of graph structure and attribute correlation on collective classification performance" 12th International Workshop on Mining and Learning with Graphs.