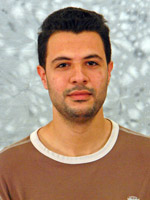 Elkindi Rezig
Graduate Student
Joined department: 2010
Education
MSc, University of Science and Technology Houari Boumediene, Computer Science (2010)
BSc, University of Science and Technology Houari Boumediene, Computer Science (2008)
El Kindi Rezig is a Ph.D. student in the department of computer science and a research assistant in the Indiana Center for Database Systems (ICDS). El Kindi's research interests include: Web services discovery, data integration and data cleaning. His main Ph.D. focus lies on solving problems related to integrating and cleaning Web data from heterogeneous data sources at query time.
Selected Publications
El Kindi Rezig, Eduard C. Dragut, Mourad Ouzzani, Ahmed K. Elmagarmid, "Query-Time Record Linkage and Fusion over Web Databases", 31st International Conference on Data Engineering, Seoul, South Korea, 2015
El Kindi Rezig, Youcef Aklouf, Hadj Madani Meghazi, "Leveraging human experts' knowledge to detect and publish compositions of Semantic Web services in a repository", Int. J. of Business Information Systems, 2013 Vol.14, No.1, pp.83 - 95
Hazem Elmeleegy, Jaewoo Lee, El Kindi Rezig, Mourad Ouzzani, Ahmed K. Elmagarmid, "UMAP: A System for Usage-Based Schema Matching and Mapping", SIGMOD Conference, ACM SIGMOD Conference, 2011.