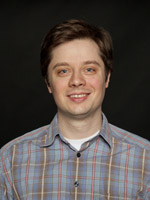 Denis Ulybyshev
Bilsland Fellowship - Grouped
Joined department: Fall 2012
Education
M.Sc., Bauman Moscow State Technical Univ., Automatic Control Systems (2004) (honorary)
Supplementary, Moscow State University, Computer Science (2012)
I am a 5-th year PhD student at Computer Science, Purdue University. I joined CS department at Purdue in Fall, 2012. I received my Master's degree in Automatic Control Systems from
Bauman Moscow State Technical University
in 2004. After that I worked as a Software Development Engineer in
Schneider Electric
company. My major responsibility was to develop software for Energy Management Control Systems applied in high-voltage transformer substations and compressor power plants.
In 2007 I joined Samsung Electronics company , Printing Division as a Software Development Engineer. I was a member of Mass-Storage team until 2009 and was responsible for developing firmware features related to mass-storage devices of printers and multi-function peripherals (MFPs). After spending 8 years in industry I decided to gain my Computer Science knowledge and in 2012 I joined PhD program in Computer Science department at Purdue University . My Academic Adviser is Prof. Bharat Bhargava .

Selected Publications
1. D. Ulybyshev, B. Bhargava, M. Villarreal-Vasquez, D. Steiner, L. Li, J. Kobes, H. Halpin, R. Ranchal, A. Alsalem, "Privacy - Preserving Data Dissemination in Untrusted Cloud", IEEE Cloud, June 2017

2. C. Qu, D. Ulybyshev, B. Bhargava, R. Rohit, and L. Lilien. 'Secure Dissemination of Video Data in Vehicle-to-Vehicle Systems', 6th Intl. Workshop on Dependable Network Computing and Mobile Systems (DNCMS2015).
3. R. Ranchal, D. Ulybyshev, P. Angin and B. Bhargava. 'PD3: Policy - based Distributed Data Dissemination', 16-th CERIAS Symp., Mar. 2015. * 1-st prize poster award (out of 43 posters)
4. N. Myrent, D.E. Adams, G. Rodriguez-Rivera, D. Ulybyshev, J. Vitek, E. Blanton, T. Kalibera, "A Robust Algorithm to Detecting Wind Turbine Blade Health Using Vibro-Acoustic Modulation and Sideband Spectral Analysis," (2014) , 33rd ASME Wind Energy Symposium