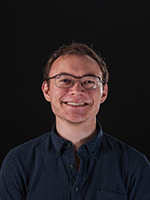 Dylan M. Rodriquez
Graduate Student
Graduate Research Assistant
Joined department: Fall 2017
Education
A.B., University of Chicago, Biological Sciences (2014)
Prior to joining the program in fall 2017, Dylan Rodriquez was a clinical research coordinator at the UChicago Medicine Rubin Lab. During this time he contributed to projects pertaining to access to care, dysplasia risk factors and detection, post-surgical outcomes, fecal microbiota transplantation, and quality of care.
Selected Publications
Cleveland NK, Ollech JE, Colman RJ,  Rodriquez D, Hirsch A, Cohen RD, Hanauer SB, Hart J, Hurst R, Rubin DT. Efficacy and Follow-up of Sub-Total Colectomy With Ileo-Rectal Anastomoses in Patients With Colitis-associated Neoplasia. Clin Gastroenterol Hepatol. Jan 2019
Rubin DT, Feld LD, Goeppinger SR, Margolese J, Rosh J, Rubin M, Kim S, Rodriquez DM, Wingate L. The Crohn's and Colitis Foundation of America Survey of Inflammatory Bowel Disease Patient Health Care Access. Inflamm Bowel Dis. 2017 Feb;23(2):224-232
Krugliak Cleveland N, Colman RJ, Rodriquez D, Hirsch A, Cohen RD, Hanauer SB, Hart J, Rubin DT. Surveillance of IBD Using High Definition Colonoscopes Does Not Miss Adenocarcinoma in Patients with Low-grade Dysplasia. Inflamm Bowel Dis. 2016 Mar;22(3):631-7
Hirsch A, Yarur AJ, Dezheng H, Rodriquez D, Krugliak Cleveland N, Ali T, Hurst RD, Umanskiy K, Hyman N, Colwell J, Rubin DT. Penetrating Disease, Narcotic Use, and Loop Ostomy Are Associated with Ostomy and IBD-related Complications After Ostomy Surgery in Crohn's Disease Patients. J Gastrointest Surg. 2015 Oct;19(10):1852-61.
Kahn SA, Vachon A, Rodriquez D, Goeppinger SR, Surma B, Marks J, Rubin DT. Patient perceptions of fecal microbiota transplantation for ulcerative colitis. Inflamm Bowel Dis. 2013 Jun;19(7):1506-13.
Last Updated: Dec 4, 2020 2:02 PM