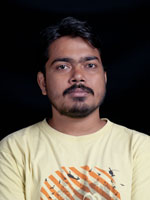 Debajyoti Das
Graduate Student
Graduate Research Assistant
Joined department: Fall 2015
Education
Bachelor of Technology, Indian Institute of Technology Hyderabad, Computer Science and Engineering (2013)
I am a third year PhD student in the Department of Computer Science at Purdue University. My advisor is Prof. Aniket Kate. Before joining Purdue in 2015, I worked as a software development engineer in Microsoft IDC, Hyderabad. I received my B. Tech. from Indian Institute of Technology Hyderabad in 2013.
Selected Publications
Anonymity Trilemma: Strong Anonymity, Low Bandwidth Overhead, Low Latency -- Choose Two
Debajyoti Das, Sebastian Meiser, Esfandiar Mohammadi, and Aniket Kate
To appear at IEEE S&P (Oakland), 2018.
Last Updated: Dec 4, 2020 2:02 PM