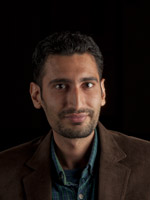 Adib Rastegarnia
Graduate Student
Joined department: Fall 2014
Education
Master, University of Tehran, Information Technology Engineering (2014)
Bachelor, Urmia University of Technology, Information Technology Engineering (2010)
Adib Rastegarnia is a PhD student in the Department of Computer Science at Purdue University. He had received his B.Sc. and M.Sc. degrees in Information Technology Engineering in 2010 and 2014, from Urmia University of Technology and University of Tehran, Iran. His current research interests include Software Defined Networking, Internet of things, Wireless networks, Network programming.
Selected Publications
Adib Rastegarnia, Meysam Mohajer,Vahid Solouk, "Homophilies and Communities Detection Among A Subset of Blogfa Persian Weblogs:Computer and Internet Category", 19th International Conference, COCOON 2013, Hangzhou, China, June 21-23
Adib Rastegarnia, Vahid Solouk, "Castalia Network Animator (CNA): A Visualization Tool for Castalia Wireless Sensor Network Simulator", Information Technology: New Generations (ITNG), 2012 Ninth International Conference on
Adib Rastegarnia, Vahid Solouk, "Performance Evaluation of Castalia Wireless Sensor Network Simulator", Telecommunications and Signal Processing (TSP), 2011 34th International Conference on
D. Comer, R. H. Karandikar and A. Rastegarnia, "Redundancy Control using software defined networking," 2016 13th IEEE Annual Consumer Communications & Networking Conference (CCNC), Las Vegas, NV, USA, 2016, pp. 638-641.