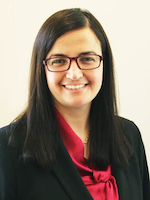 Ruby Tahboub
Visiting Assistant Professor
Joined department: Summer 2019
Education
M.S., Purdue University, Computer Science (2016)
Ph.D., Purdue University, Computer Science (2019)
Selected Publications
Ruby Y. Tahboub, Tiark Rompf, Architecting a Query Compiler for Spatial Workloads, SIGMOD'20.
Gregory M. Essertel, Ruby Y. Tahboub,  James Decker, Kevin Brown,  Kunle Olukotun, Tiark Rompf,  Flare: Optimizing Apache Spark for Scale-Up Architectures and Medium-Size Data, OSDI'18.
Ruby Y. Tahboub, Gregory Essertel, Tiark Rompf, How to Architect a Query Compiler Revisited, SIGMOD'18.
Last Updated: Dec 4, 2020 1:55 PM