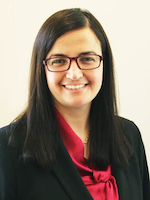 Ruby Tahboub
Visiting Assistant Professor
Joined department: Summer 2019
Education
B.S., Jordan University of Science and Technology, Computer Science (2005)
M.S., Purdue University, Computer Science (2016)
Ph.D., Purdue University, Computer Science (2019)
Selected Publications
Gregory M. Essertel, Ruby Y. Tahboub,  James Decker, Kevin Brown,  Kunle Olukotun, Tiark Rompf,  Flare: Optimizing Apache Spark for Scale-Up Architectures and Medium-Size Data, OSDI'18.
Ruby Y. Tahboub, Gregory Essertel, Tiark Rompf, How to Architect a Query Compiler Revisited, SIGMOD'18.
Ruby Y. Tahboub, Tiark Rompf, On Supporting Compilation in Spatial Query Engines (Vision Paper), SIGSPATIAL'16.
Last Updated: Dec 4, 2020 1:55 PM