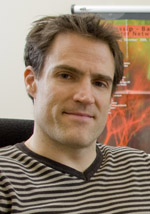 Patrick Thomas Eugster
Associate Professor of Computer Science
Joined department: Spring 2006
Education:
PhD, Computer Science
Swiss Federal Institute of Technology in Lausanne (2001)
MS, Computer Science
Swiss Federal Institute of Technology in Lausanne (1998)
Professor Eugster's research is concerned with the development of distributed systems software. Particular topics of interest include fault tolerant algorithms, middleware, and programming languages and models.
Professor Eugster was educated in Switzerland, and has worked for both Swiss Federal Institutes of Technology in Lausanne (EPFL) and in Zurich (ETHZ), as well as for Sun Microsystems (now Oracle) prior to joining Purdue University. He has authored over 70 refereed articles, and is a member of ACM and IEEE. Among other awards for his research and teaching, Professor Eugster has received an NSF CAREER award (2007) and Experienced Researcher fellowship by the Alexander von Humboldt foundation (2011). He is also a member of the 2011 DARPA Computer Science Study Panel.
Selected Publications
D. Alistarh, P. Eugster, M. Herlihy, A. Matveev, and N. Shavit, "StackTrack: an Automated Transactional Approach to Concurrent Memory Reclamation", 9th European Conference on Computer Systems (EuroSys 2014), article 25, April 2014.
C. Jayalath and P. Eugster, "Efficient Geo-Distributed Big Data Processing with Rout", 33rd IEEE International Conference on Distributed Computing Systems (ICDCS 2013), pages 470-480, June 2013.
T. Freudenreich, P. Eugster, S. Frischbier, S. Appel, and A. Buchmann, "Implementing Federated Object Systems", 27th European Conference on Object-Oriented Programming (ECOOP 2013), pages 230-254, July 2013.
Research Funding
Patrick T. Eugster, NetApp. Univ. Research Fund, Silicon Valley Community Foundation, 09/18/2014
Patrick T. Eugster, A Methodology for Developing Complex Event-based Software, "Interior, U.S. Department Of", 04/20/2011-04/19/2015
Patrick T. Eugster, TWC: Small: Practical Assured Big Data Processing in the Cloud, National Science Foundation, 10/01/2014-09/30/2017
Patrick T. Eugster, TC:Small:Least Privilege Enforcement through Secure Memory Views, National Science Foundation, 08/15/2011-07/31/2015
Patrick T. Eugster, Multi-Attribute Scored Top-k Matching with Customized Weighting, Purdue Research Foundation: Xr Grant, 06/01/2012-05/31/2015
Patrick T. Eugster, FY 12-13 PRF, increase for fee remits, Eugster, Purdue University, 06/01/2012-05/31/2015
Eugene H. Spafford, Elisa Bertino, Bharat K. Bhargava, Sonia A. Fahmy, Richard P. Mislan, Dongyan Xu, Xiangyu Zhang, Patrick T. Eugster, and Randal K. Bond, NGIT Cybersecurity Research Consortium, Northrop Grumman Space Technology, 09/01/2009-08/31/2015