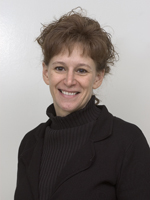 Melissa Dark
Associate Dean of Planning and Research, College of Technology
W.C. Furnas Professor Computer and Information Technology
Professor of Computer Science (courtesy)
Joined department: 2005
Education:
BA, Foreign Language Education and Communications
Purdue University (1983)
MS, Instructional Research and Development
Purdue University (1993)
PhD, Curriculum and Instruction
Purdue University (1993)
Melissa Dark is an Associate Professor in Computer Technology and Assistant Dean in the School of Technology at Purdue. She has extensive experience in post-secondary science, technology, engineering, and mathematics (STEM) education. Melissa completed her Ph.D. work at Purdue University and throughout her career has worked on several STEM curriculum and instruction projects with business and industry, government, and higher education. She has led faculty development projects in technology education and information security education aimed at increasing the knowledge and skills of secondary and post-secondary educators throughout the United States. She has been active in helping define the information assurance discipline and is currently leading a group that is developing the common body of knowledge in information security education. She has extensive experience in needs assessment, instructional design, development, and evaluation of continuing education in science, math, engineering, and technology related disciplines including traditional face-to-face training and education, as well video, CDROM, and Internet-delivered courseware. Melissa has specialized in educational measurement and evaluation. She has designed, developed, and taught educational measurement and evaluation. She also has consulting experience in the evaluation of operator error in heat treatment operations, industrial radiography, industrial infant security alarm systems, cost of quality measurement systems, and the evaluation of personal digital assistants for a company standard.
Research Funding
Melissa Jane Dark, Eugene H. Spafford, REU Site: Multi-disciplinary Information Assurance and Security, National Science Foundation, 06/15/2011-05/31/2015
Eugene H. Spafford, Victor Raskin, Melissa Jane Dark, Brandeis H. Marshall, Preparing Cyber Security Leaders, National Science Foundation, 03/01/2011-02/29/2016