<!
(Originally entitled Dissections Too! Swingin')
Here is a picture of me giving an invited talk at the Japan Conference on Discrete and Computational Geometry 2000. (Click here to see all photos of the conference) All heads seemed to be turned to the screen. Are they watching a battle of two pacmen?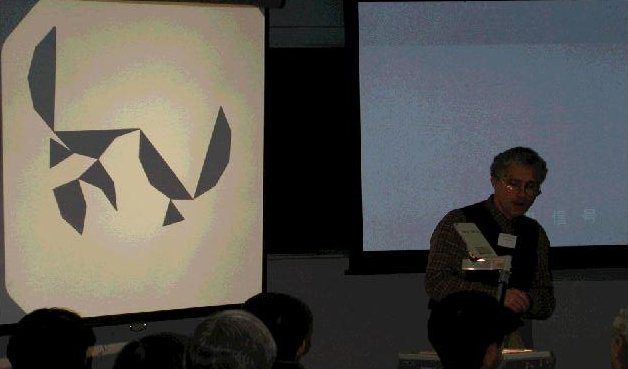 Below is an exhibition of some lovely models from Jin Akiyama's group. On the far right, you get another view of me.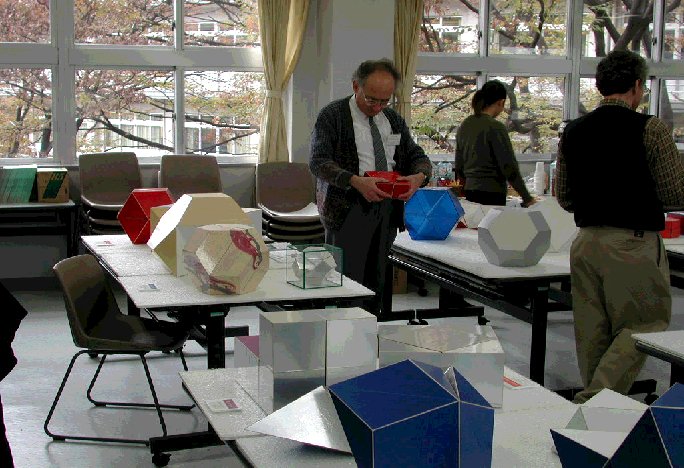 The organizers of the conference were generous beyond belief. We were invited out to dinner every evening. Below is a photo of one of the dinners. Mikio Kano is sitting in front of me, and Jin Akiyama (wearing his signature headband) is half standing behind me.
---
Photos supplied through the courtesy of Masatsugu Urabe.
Copyright 2001-2002, Greg N. Frederickson.
Permission is granted to any purchaser of Hinged Dissections: Swinging & Twisting to print out a copy of this page for his or her own personal use.
Last updated March 28, 2002.