<!
Albert Hamilton Kennedy's mensuration blocks, some of which which are hinged
and thus relate to issues discussed in Hinged Dissections: Swinging & Twisting, by Greg N. Frederickson:
Since completing the webpage Hinged models for area and volume formulas, I have been contacted by two people, first Jo Miller and then later (2011) Mary Moore, who were each in possession of sets of mensuration blocks produced by Albert H. Kennedy. Each sent me photographs of the sets in their possession:
Here is a picture of Jo Miller Labonte's blocks sitting out in front of the cabinet in which they were stored: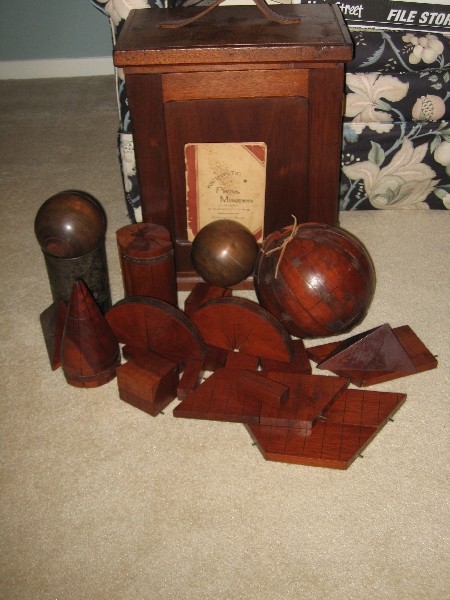 Here is a picture of the the cabinet in an open position, with a copy of Kennedy's pamphlet, "Arithmetic of Practical Measurements", inside.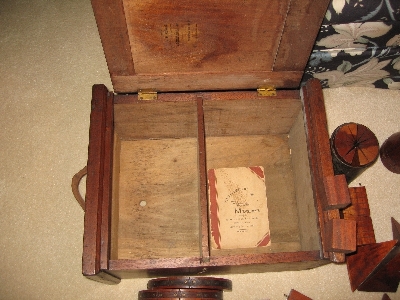 In the center of this next picture, you can see Mary's set, which had been offered for sale by Helping Hands Estate Tag Sales and Service, in Fort Dodge, Iowa. Note that there is a similar cabinet for the set of blocks, complete with one shelf on the inside, as there was for Jo's set. This would suggest that each set was sold with an accompanying cabinet.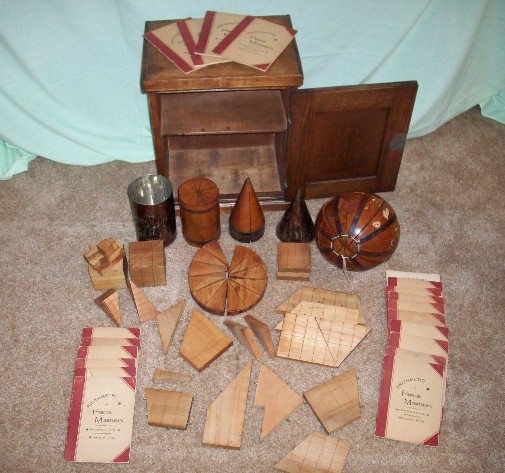 Take a look at a copy of Kennedy's patent, which he filed on June 22, 1881. He was granted Patent No. 270,225 (entitled "Geometrical Block") on January 9, 1883.

Galen Lowe has several pictures of the hinged sphere, which gives the derivation for the volume of the sphere.


Below are two paintings that were given to the superintendent of the South Spencer School Corporation by Kennedy's daughter Alberta Kennedy Huffman. First is a painting of Kennedy with some of his blocks, and the second is a painting of Rockport, Indiana, high school where Kennedy was both superintendent and a teacher. The paintings were by an Australian painter, Don Cowan, who was studying and teaching in Tucson, Arizona. Kennedy (1848-1940) was an 1873 graduate of Oberlin College.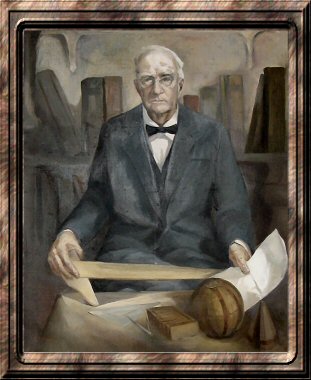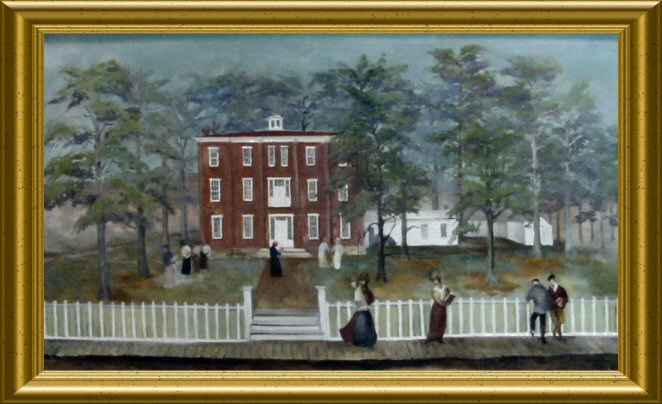 And here is a photo of the Rockport, Indiana, high school in 1916: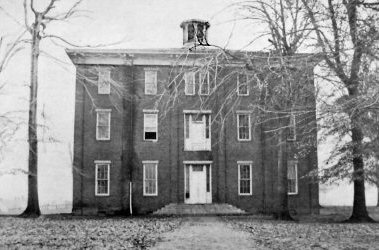 In August 2017, Mark E. Dixon, a writer for the DelawareToday magazine, asked me whether "my" Albert H. Kennedy is the same man who patented a sheep-shearing device in 1866. That patent listed Albert H. Kennedy's address as Brunswick, Ohio. Mark was writing an article about the Hagley Museum in Wilmington, Delaware, which owns the patent model of the shearing machine. Mark was trying to learn something of the machine's "back story." I responded to Mark that I wasn't sure, but that there is considerable support for that conjecture:

1. The 1860 US Census lists an Albert H. Kennedy who was born in Brunswick, Medina, Ohio about 1847, while my Albert H. Kennedy was born in 1848 and was an 1873 graduate of Oberlin College, which is in Ohio.
2. I compared the Kennedy signature on the 1866 Sheep Shears patent with the signatures on my Kennedy's 1883 Geometrical Block patent, and they seemed consistent.
3. And of course, the act of filing patents is not so common in and of itself!

So I would guess that the two Albert H. Kennedy's are one and the same. Thanks Mark, for helping me also fill in a bit more of Albert H. Kennedy's back story!
Acknowledgments:

Thank you, Jo and Mary, for sharing these models with me and allowing me to post photographs of them on the web.

Thank you to Raymond Dawson, who researched material for, and created the webpage, Timeline History of Rockport High School. His encouragement, as well as that of Mike Robinson, superintendent of the South Spencer School Corporation, Indiana, is greatly appreciated.


Back to the photo gallery for Hinged Dissections: Swinging & Twisting.



---




Photos of the mensuration blocks courtesy of Jo Miller, Mary Moore, and Linda Dencklau. The photos of the paintings and of the Rockport High School are reproduced with the permission of Raymond Dawson and Mike Robinson. All else copyright 2011, Greg N. Frederickson.
Permission is granted to any purchaser of Hinged Dissections: Swinging & Twisting to print out a copy of this page for his or her own personal use.

Last updated September 2, 2017.