<!
Dick Ruth (of Shippensburg University) rediscovered a hinged dissection of a quadrilateral to two identical parallelograms. He liked the hinging feature so much that he constructed a hinged model and sent me a photo sequence illustrating it. The quadrilateral is cut at the midpoints of its sides, and can be hinged at any three of these four points. The dissection appears in hinged form in Fig. 160 of Donald Lee Bruyr's book, Geometrical Models and Demonstrations, published by J. Weston Walch, Portland, Maine, 1963.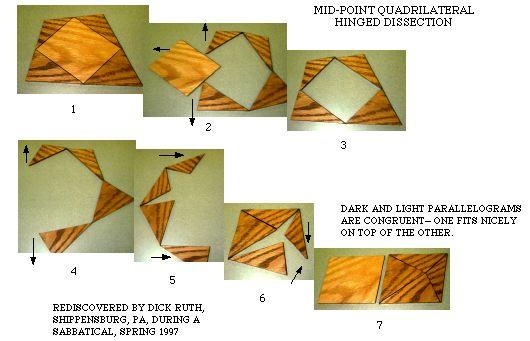 Back to the photo gallery for Dissections: Plane & Fancy.


---
Photos and photo montage courtesy of Dick Ruth. Other material: copyright 1998, Greg N. Frederickson.
Permission is granted to any purchaser of Dissections: Plane & Fancy to print out a copy of this page for his or her own personal use.
Last updated February 6, 1998.