<!
When last heard from, Robert Reid was soon to depart from New York in July, 1997. I was not to hear from him again for more than two years, during which time I all but gave up hope. By chance I heard Ray Bathke mention his name at IPP19 in London, and I got Robert's address and tracked him down the next day.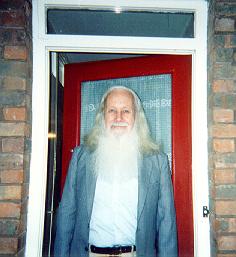 Robert had arrived in London with financial difficulties, which had soon translated into troubles with his health and with the bureaucracy. By the time I caught up with him, these troubles had eased somewhat. He now looks older and a bit like Father Christmas, though not at all rotund. We had a great time talking about dissections. I encouraged him to get "into the swing" of hinged dissections, which I am working on now.
Never one to let a story die, Robert is back on the radar screen three years later.

Back to the photo gallery for Dissections: Plane & Fancy.


---
Copyright 1999-2003, Greg N. Frederickson.
Permission is granted to any purchaser of Dissections: Plane & Fancy to print out a copy of this page for his or her own personal use.
Last updated September 27, 2003.