<!
Here is a picture of me giving the Class of 1942 (Durgin) Lecture at Bridgewater State College on November 16, 2001. This was part of the fall 2001 meeting of the Northeastern section of the Mathematical Association of America. The gesture looks a bit theatrical, but was really necessary, considering that I was speaking in a large lecture hall, with the audience on the other side of an open orchestra pit that was quite a chasm. No pitfalls, please!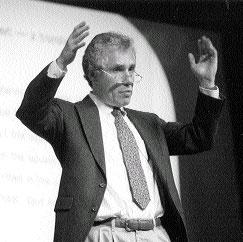 Back to the photo gallery for Dissections: Plane & Fancy.


---
Copyright 2002, Greg N. Frederickson.
Permission is granted to any purchaser of Dissections: Plane & Fancy to print out a copy of this page for his or her own personal use.
Last updated February 5, 2002.