<!
When I pressed my editor for a preference regarding a "Plane & Fancy" coffee mug versus a "Plane & Fancy" T-shirt, she voted without hesitation for the coffee mug. But the mugs turned out to be too pricey in lots of less than a thousand, so the mathematical puzzle world is stuck with "Plane & Fancy" T-shirts.
These are Hanes Beefy-T (100% preshrunk cotton) cream-colored T-shirts silk-screened on the front in 3 colors with the words and the dissection from the cover of the book. They are produced by Paul Miller of RockNRoll Alley, Lafayette, Indiana. These shirts look great either being displayed to the admiring `mathetudes' ...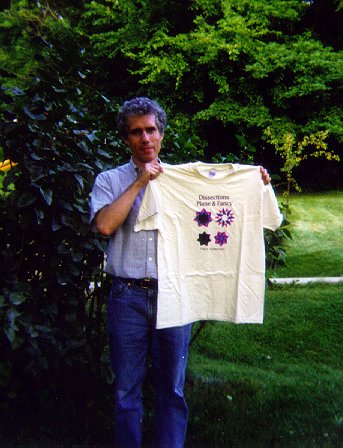 or being worn boldly in all corners of the universe ...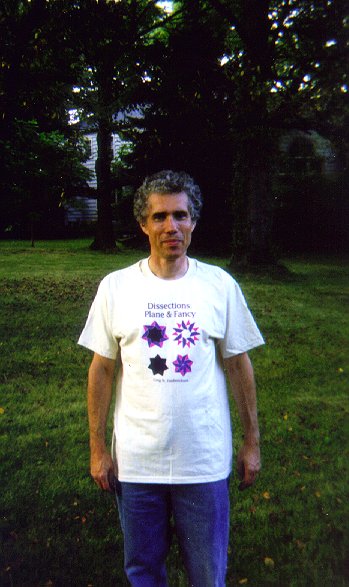 Once my second book came out, I let my never-very-large supply run down. They're all gone now. Sorry!
Also check the photo gallery to see Anton Hanegraaf, the first person ever to be photographed wearing one.

Back to the photo gallery for Dissections: Plane & Fancy.


---
Copyright 1998, Greg N. Frederickson.
Permission is granted to any purchaser of Dissections: Plane & Fancy to print out a copy of this page for his or her own personal use.
Last updated April 4, 2003.