Finding a Partition
In this segment, we'll plant a partition in a graph, and then use the second smallest eigenvector to find it.
As always, the first step is to generate our dataset. In this example, we'll be a little more ambitious and use a larger number of vertices.
>> n = 1000;
To plant an artificial partition in our dataset, we need to determine the vectices in each of the groups. To do this, we randomly generate a permutation of all the vertices and select one set as group 1 and the rest as group 2. The variable gs controls how big the size of the first group.
>> x = randperm(n); >> gs = 450; >> group1 = x(1:gs); >> group2 = x(gs+1:end);
Now, we need to decide on the probabilities of edges within each group and between the two groups. Because we are planting a partition, the probabilities of edges between the groups should be much lower than the probability of edges within each group. Suppose that group 1 is a little more tightly connected than group 2. (Please insert your own amusing names for an actual identification of group 1 and group 2, e.g. politicians and mathematicians.)
>> p_group1 = 0.5; >> p_group2 = 0.4; >> p_between = 0.1;
With these probabilities in hand, we can construct our graph. The last few operations symmetrize the matrix.
>> A(group1, group1) = rand(gs,gs) < p_group1; >> A(group2, group2) = rand(n-gs,n-gs) < p_group2; >> A(group1, group2) = rand(gs, n-gs) < p_between; >> A = triu(A,1); >> A = A + A';
Next, let's see if we can see the partition.
>> spy(A);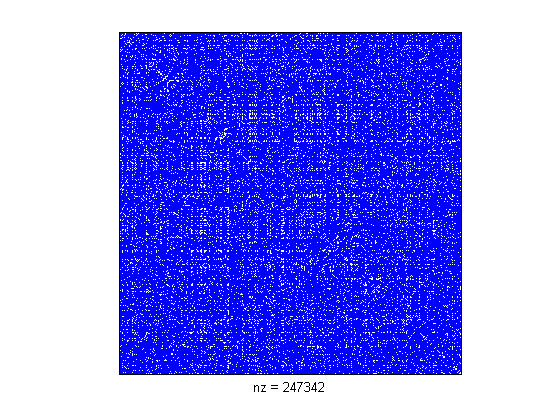 While some might claim to see a partition in this data, I think it is not particularly obvious.
Now, let's investigate what the second smallest eigenvector tells us about this graph.
>> L = laplacian(A); >> [V D] = eigs(L, 2, 'SA'); >> D(2,2) ans = 46.7158
The large second smallest eigenvalue states that we shouldn't expect to find any very good cuts in our dataset. To see what we found, let's plot the second smallest eigenvector V(:,2).
>> plot(V(:,2), '.-');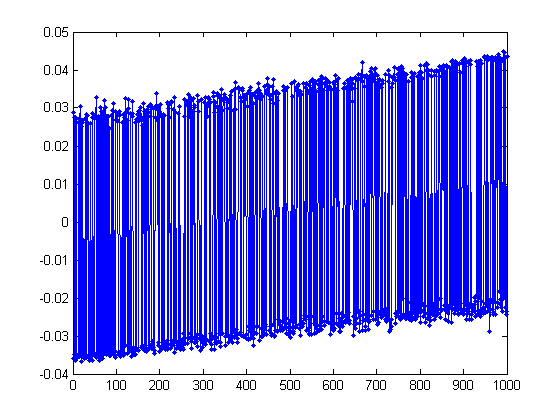 That isn't all that helpful. Maybe sorting the vector...
>> plot(sort(V(:,2)), '.-');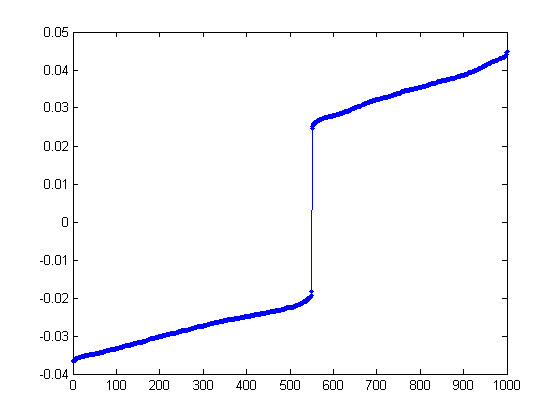 Now, that picture is much more informative! We see a large gap in the middle of the values. Interestingly enough, the number of points on the right gap is the same as gs, the size of our planted group. Let's see what happens when we permute the vertices of the graph to this ordering.
>> [ignore p] = sort(V(:,2)); >> spy(A(p,p));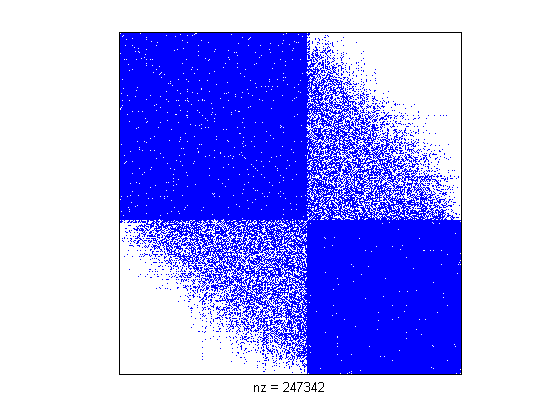 Looks like we found our partitions!
---