Giant Component
In this tutorial/record, we'll look at generating Erdos-Reyni random graphs in Matlab, and see the giant component in the graph.
The first step is to pick the number of vertices in the graph and the probability of an edge between two vertices.
>> n = 150; >> p = 0.01;
With these two parameters, we can instantiate the graph. The variable G is the adjacency matrix for the graph. The second operation symmetrizes the adjacency matrix by discarding half of it.
>> G = rand(n,n) < p; >> G = triu(G,1); >> G = G + G';
From the theory of Erdos-Reyni graphs, we know that a giant connected component should emerge when p > 1/(n-1).
>> thres_giant = 1/(n-1) thres_giant = 0.0067
Because p = 0.01 > 0.0067, we expect our graph to have such a giant component. Using the Matlab interface to the AT&T Graphvis program neato, we can generate a layout for this graph and visualize it using the matlab gplot function. That way, we can see if it really does have a giant component.
>> [x y] = draw_dot(G); >> gplot(G, [x' y'], '.-');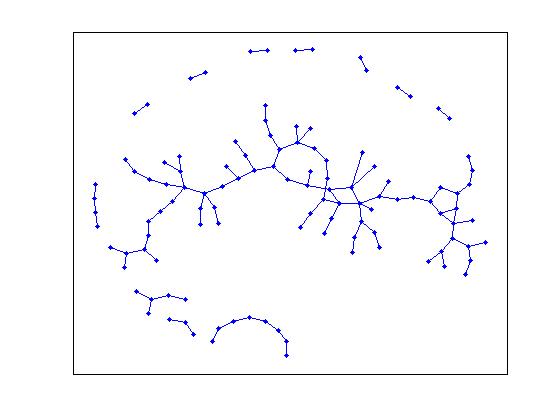 In the center of the picture, we see the large connected component of the graph.
---