---

From the Summer 1996 edition of Purdue University Perspective

---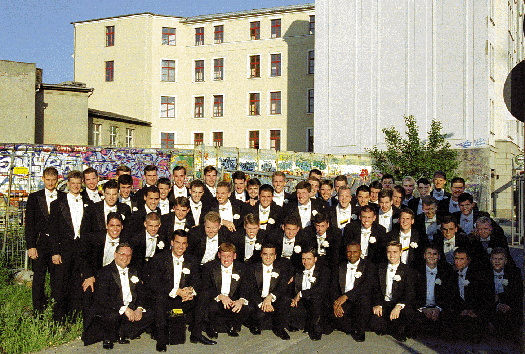 Although most of the Berlin Wall - and the figurative Iron Curtain separating East and West came down in 1989 and 1990, graffiti-covered portions remain. Glee Club members interrupted their ride to a show to pose for a quick photo. The buildings on the far side of the wall stand in what once was East Berlin. Later, at the Meister Saal, a Berlin music hall, PMO Director Brian Breed (below) called Al Hemmer to the stage for an impromptu solo. Hemmer was a Glee Club member in the 1950s.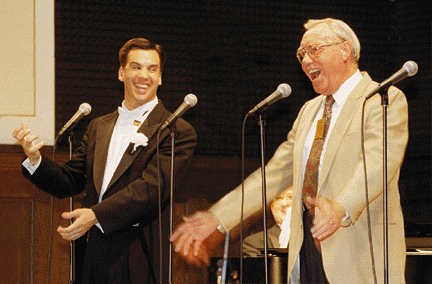 Glee Club takes Europe
The printed itinerary for the Purdue Varsity Glee Club's 1996 Grand European Concert Tour promised that the University's singing ambassadors would give nine performances during a 15-day trip through Austria, the Czech Republic and Germany.

A schedule like that would challenge even a seasoned professional troupe; but for the 54-man Glee Club, the planned performances were only a small part of the story.

Before the last suitcase was aboard the plane for home on June 11, the group had sung 27 times. They had performed for as long as three hours and as briefly as 30 minutes. They sang in churches and castles, outdoor marketplaces and concert halls, parks, hotels, beer gardens, and even a polo stadium.

Audiences were as diverse and colorful as the flags of Europe. Proud Boilermaker alumni and parents listened next to people who had never heard of Purdue and who didn't understand a single lyric. One audience consisted of the residents of a retirement home; another was made up of celebrity models and jet-setters. Some bought tickets; others were surprised by impromptu concerts.

Under the leadership of Purdue Musical Organizations Director Brian Breed, the vocal group projects a wholesome image that consists of equal parts of energy, talent, discipline and pride. A woman from Brooklyn listened as the Glee Club sang the closing notes of "Shenandoah" in a Nuremberg marketplace. "You can't imagine," she said, "how good it is to be this far from home and see a group of young people represent America so well."

Representing America and Purdue was one of the group's goals, as it flew out of Chicago on May 26. The other items on the agenda were to make good music and to have fun. The Glee Club travels extensively in the United States, performing an average of two or three times a week during the academic year. It makes a summer overseas excursion about every three years.

The first stop on the 1996 summer tour was Vienna, a city that knows something about music. The Glee Club and an entourage of family members, friends and University alumni were joined in Vienna by 100 members of the Purdue President's Council, including President Steven Beering and his wife, Jane.

The two groups would be together for three days in Vienna and four in Prague. Then the President's Council tour would board an Elbe River excursion boat bound for Hamburg. Meanwhile, the Glee Club party would continue by bus to Nuremberg, Berlin and Hamburg, where the groups would reunite for the final two days of the trip.

Vienna
Although once the political and economic center of the great Hapsburg empire, Vienna treasures nothing more than its rich musical heritage. Reminders of Mozart and Schubert are everywhere. In a city park an orchestra plays daily outdoor concerts of waltzes, while listeners sip coffee or beer and couples glide across a paved dance surface.

By the time the Glee Club took the stage for its first scheduled performance, it had already sung two impromptu concerts. During a tour of the Vienna Opera House, stagehands halted their work and listened in awe. At fabled St. Stephen's Square, pedestrian traffic came to a standstill.

At the formal performance, billing was shared with two local ensembles: a men's singing group made up of former members of the Vienna Boys Choir and a chorus from a local university. Both groups sang traditional Austrian and German songs and drew a warm response. Although the Glee Club had learned some special music for the trip, Breed did not plan major changes in his group's repertoire to accommodate European audiences.

"I think what people want to hear is our kind of music," he says. "If we go to Austria or Germany and try to sing their music, we won't do it as well as they can, so we'll stick to what we do best."
What the Glee Club does best is surprise people with both the quality of its music and the variety of its entertainment. The first surprise usually comes with the group's traditional entrance. They head for the stage at a dead run, which provoked gasps and nervous laughter in Vienna and in every other city on the European tour. The first notes of the concert, though, let everyone know that this is a group that is serious about music.

Breed takes pride in offering something for everyone in his program. As the Glee Club moved from popular standards, to religious music, to selections from German and Italian opera, to old-time rock 'n' roll, to European folk songs, the Viennese audience's excitement and enjoyment built, culminating in a standing ovation.

The Glee Club, which has nearly 200 selections in its repertoire, always performs from memory. Most audiences don't realize that Breed decides on the spot what the next song will be, based on audience response, acoustics and his own judgment of what will work best. He may pick any member of the group to perform a solo with no notice.

How does a group of college students - none of whom are music majors - perform to such a high standard? Breed compares the Glee Club members' effort with the demands placed on varsity athletes. "A man who does this is not going to have a typical college career," he says. "He's going to have a lot of fun and see and do things that most people don't get to experience, but he must work very hard and have a lot of commitment. Everyone gets that message from me when he auditions. I've turned down some very talented people because I sensed that commitment wasn't there."

Melk Abbey
Traveling by bus from Vienna to Prague, the two Purdue groups entered the Austrian village of Melk to visit a Benedictine monastery. The brief stop produced one of the most memorable moments of the trip.

Unlike many famous European churches and cathedrals, which have made tourism, rather than worship, their primary activity, the church at Melk has preserved its traditional role. Signs welcome visitors but ask that they respect the dignity of the place.

As visitors made their way through the building, Breed began drawing the Glee Club members together beneath the Baroque dome at the center of the church. As the first notes of "Ave Maria" floated upward, it was obvious that this would be something special. Later the singers would say that the acoustics were so magnificent that the vocal parts - bass, baritone, tenor - came back to them perfectly preserved in echo form.

As each song concluded, the audience, as if by agreement, remained utterly silent. By the time the brief concert was over, tears were glistening on the cheeks of singers and listeners alike.

Prague
One Czech Republic tour guide was Helena, a tiny young woman with a large passion for her country's new independence. Fiercely patriotic, she pointed with pride to examples of past greatness and progress and with anger or sarcasm to examples of neglect or incompetence perpetrated before the Soviet-dominated communist regime was swept out of power.

As the bus approached a drab collection of apartment buildings, she announced: "Here I must ask you to close your eyes while we pass another example of socialist utilitarianism."

Despite such examples, Prague is a city of astonishing beauty in a nation that is entering the world of free enterprise with enthusiasm and creativity. The Old Town Square is a carnival of shops, outdoor vendors, restaurants, food stands and street performers. The Charles Bridge, a 700-year-old Gothic walkway spanning the Vltava River, is a quarter mile of musicians, painters, jugglers, puppeteers and street vendors.

A tour of the city and a visit to St. Vitus's Cathedral - where the remains of Good King Wenceslas are entombed - was followed by dinner at U Fleku, a 1459 beer garden. An oompah band played throughout the evening, but was upstaged when the Glee Club began singing drinking songs.

After dinner, 200 Purdue faithful walked to the Charles Bridge for another "impromptu" performance. A young man from Hawaii, working his way through Europe, listened in the dark as the group swung into "Hawaiian War Chant." He smiled broadly. "It's sounding a little bit white and Midwestern, but it's sounding awfully good and they've even got the words right," he said.
Mission accomplished in Prague, the Glee Club party departed for Nuremberg and the President's Council group boarded its riverboat.

Nuremberg
Shortly after unpacking in Nuremberg, the Glee Club was singing at a Sunday vespers service in Frauenkirche. At the conclusion of the service, the priest turned and - making a valiant effort at English - said: "Thank you for your wonderful singing. We are all very depressed by your performance."

Breed commented later, "I think he meant to say 'impressed,' at least I hope so!"
Nuremberg is a bustling commercial center, but its history as a picturesque medieval fortress town is evident in huge watchtowers, the ancient wall and a castle that still looks impregnable.
A performance at Wohnstiff am Tiergarten, a large retirement home, produced some lasting memories. The mostly female audience, many of who understood little or no English, gasped in unison at the Glee Club's running entrance, but warmed quickly to the music. When Breed announced a selection from Beethoven's opera "Fidelio" or Wagner's "Tannhauser," there were instant murmurs of recognition. But performances by the Glee Club's rock 'n' roll quartet Ba-Na-Na and by Four Clever Lads, an early-'50s-style quartet that does an Ed Sullivan show spoof, took a little longer to win the listeners over; but soon they caught onto the spirit of fun, if not the idea behind the music.

After the show, clean-cut young men with bright futures before them pinned flowers on old women who have lived through some of the darkest days of history.

Berlin
The most striking feature of the once and future capital of Germany is a forest of construction cranes. The towering structures seem to be everywhere on the city's skyline as Berlin catches up on a half-century of stagnation in the former eastern sector and constructs new government buildings and embassies for the imminent move of the federal government from Bonn.

During a city tour with stops at the old Berlin Wall and the Brandenburg Gate, the Glee Club gave a brief concert at the Berlin Dome Cathedral, located in the former eastern sector. Nearly destroyed by World War II bombing, the structure was meticulously restored by the communist government. Gordon Marsh, a British-born tour director who now lives in Germany, explained why a government that was hostile to organized religion would make such an effort: "In their minds," he said, "an ornate church like this demonstrated the exploitation of artisans and the waste of materials under previous governments. It was important to them to preserve what they considered some bad examples."

Hamburg
The last city on the trip had a distinct hometown feel for Boilermakers. President Beering spent his boyhood in Germany's largest port, and the city's predominant building material is a familiar red brick.

Most welcoming of all, however, was Juergen Grossmann, a Hamburg native who received a Purdue master's degree in management in 1974. Now a successful Hamburg industrialist, he reserved a large restaurant and hosted an evening of feasting and song for more than 300 people, including both Purdue tour groups, various dignitaries and local people with Purdue connections.
Standing proudly in a black and old gold sweatshirt, Grossmann talked about learning the importance of professionalism at Purdue. Then, as a tribute to the Glee Club singers, he led his fellow Hamburgers in a chorus of Brahms' "Lullaby."

Twenty-four hours later, the trip wound to a close at the Atlantic Hotel, where 12 members of the Glee Club sang their last songs and heard their last hurrahs.

Beering, recalling the nights of terror he had survived more than 50 years ago in Hamburg, urged the departing travelers to put aside memories of a shattered past and build on the opportunities that lie ahead.

After that, there was just one chorus of "Hail Purdue" to sing.

Stories by Joseph Bennett
Photographs by David Umberger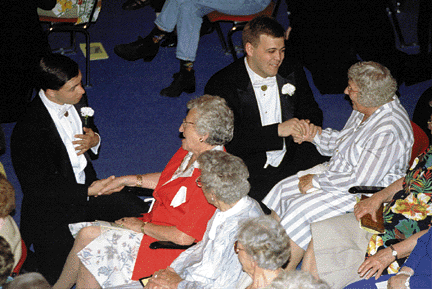 At a Nuremberg retirement home (above), Glee Club members serenade residents. The Glee Club also performed on the Charles Bridge (below) in Prague, although at night. During the day, the bridge is lined with puppeteers, musicians, jugglers and other amateur performers.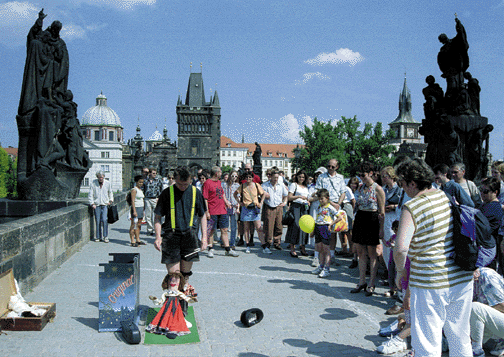 ---
In some ways, it's a small world
People traveling with the Purdue Varsity Glee Club and the President's Council found familiar faces throughout Europe:

Four Glee Club members - Darren Haselby, David Herbon, Brandon Tiek, and Derrick Williams - sitting at a sidewalk cafe in Prague, looked up to see Indiana Sen. Richard Lugar at a nearby table. They invited him to their concert that evening, but the senator, who was in the Czech Republic on government business, was already committed to another meeting.

That same evening, Gary Isom, director of the Purdue Division of Sponsored Programs, was an unexpected guest at the concert. He was in Prague to deliver a lecture at the medical school of Charles University.

Ruzena Cerna, a Prague resident, met Eleanor Biddle of Brookston, Ind., at a church gathering in the Hoosier state. The two stayed in touch; and when Biddle arrived in Prague with the Glee Club tour, she had an invitation to dinner at her Czech friend's home. Biddle reciprocated by inviting Cerna to a Glee Club concert.

In Hamburg, Glee Club member Scott Deaton was approached by a smiling woman, who turned out to be Tina Hiort, who had been his teaching assistant at Purdue two years earlier.

---
In others, we're worlds apart
Travelers to Central Europe find an environment that is clean, safe and friendly. Particularly enjoyable is the fact that the streets of large cities are relatively free of violent crime. Local people and tourists alike walk around freely at all hours. The main danger is pickpockets, who are numerous and highly skilled. A German woman who joined the Purdue group as a guest in Berlin lost about $300 to two teen-age pickpockets.

Some other differences:

Europeans drink wine, beer, coffee, tea and mineral water. But they don't like tap water, and restaurant employees find it hard to understand why Americans want the stuff.

Germany is an expensive place to visit. A hamburger at the Berlin Hilton was about $14; a small paperback novel cost $17 at a local bookstore. In Nuremberg, one family decided to send a few items to the hotel laundry. They came back beautifully done and with a bill for about $180.

Culinary translations are risky. Several Glee Club members ordered a vegetarian pizza in Nuremberg. It arrived topped with corn and green beans.


---

Send comments to Lyn Doyle