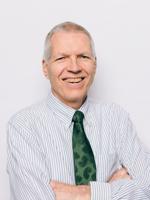 Daniel G Trinkle
Facilities and Network Administration
Joined department: 1982
Education:
B.S., Computer Science
Northern Kentucky University (1981)
M.S., Computer Science
Purdue University (1984)
Daniel came to Purdue in the fall of 1982 as a graduate student. After graduating in 1984, He had a one year appointment as a visiting instructor teaching undergraduate architecture, algorithms and COBOL courses.
In June 1985 Daniel was hired as a systems programmer for the department. He's been with Computer Science since.
Last Updated: March 05, 2010 05:11pm