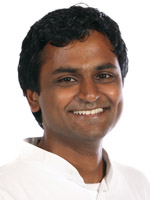 S. V. N. Vishwanathan
Associate Professor of Statistics
Associate Professor of Computer Science
Joined department: 2008
Education:
Ph.D., Machine Learning
Indian Institute of Science (2003)
M.E., Computer Science
Indian Institute of Science (2000)
B.E., Electronics
Maharaja Sayajirao University of Baroda (1998)
S. V. N. Vishwanathan is an Assistant Professor of Statistics and Computer Science with Statistics as his home department. His research focuses on machine learning with an emphasis on graphical models, structured prediction, kernel methods, and convex optimization. His work encompasses problems such as pattern recognition, OCR, bioinformatics, text analysis, and optimization. Vishwanathan earned his Ph.D. and M.E. in computer science from the Indian Institute of Science in 2002 and 2000, respectively, and a B.E. in electronics engineering from the M. S. University of Baroda. Prior to joining Purdue University Vishwanathan was a principal researcher in the Statistical Machine Learning program at NICTA with an adjunct appointment at the College of Engineering and Computer Science (CECS) at the Australian National University.
Selected Publications
Shin Matsushima, S. V. N. Vishwanathan, and Alex Smola, "Linear Support Vector Machines via Dual Cached Loops", Eighteenth ACM SIGKDD International Conference on Knowledge Discovery and Data Mining, 2012.
Hyokun Yun and S. V. N. Vishwanathan, "Quilting Stochastic Kronecker Product Graphs to Generate Multiplicative Attribute Graphs", Proceedings of International Workshop on Artificial Intelligence and Statistics, 2012.
Xinhua Zhang, Ankan Saha, and S. V. N Vishwanathan, "Smoothing Multivariate Performance Measures", Journal of Machine Learning Research, 2012.
Last Updated: December 14, 2012 09:04pm