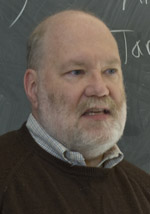 Eugene H. Spafford
Professor of Computer Science
Professor of Electrical and Computer Engineering (courtesy)
Professor of Communication (courtesy)
Professor of Philosophy (courtesy)
Professor of Political Science (courtesy)
Executive Director, Purdue CERIAS
Joined department: 1987
Education:
BA, Mathematics and Computer Science
State University of New York at Brockport (1979)
MS, Information and Computer Science
Georgia Institute of Technology (1981)
PhD, Information and Computer Science
Georgia Institute of Technology (1986)
DSc (honorary), State University of NY (SUNY) (2005)
Dr. Spafford's current research interests are focused on issues of computer and network security, cybercrime and ethics, technology policy, and social impact of computing. He is the founder and executive director of the Center for Education and Research in Information Assurance and Security (CERIAS). He is also a charter member of the Faculty Leadership Committee of Purdue's Global Policy Research Institute (GPRI). Both university-wide institutes draw on expertise and research across all of the academic disciplines at Purdue.
Spafford has received recognition and many honors for his research, including being named as a Fellow of the ACM, the AAAS, the IEEE, the (ISC)2, and as a Distinguished Fellow of the ISSA. He has been awarded status as an Honorary CISSP (Certified Information Systems Security Professional) and named as a member of the ISSA's Hall of Fame. In October of 2000, Dr. Spafford received the field's most prestigious award: the NIST/ NCSC National Computer Systems Security Award.
Among other honors for Professor Spafford are the 2004 ACM SIGCAS Making a Difference Award, a U.S. Air Force medal for "Meritorious Civilian Service" for his work with the USAF Scientific Advisory Board from 1999-2003, the 2005 IEEE Computer Society Technical Achievement Award, the 2006 ACM SIGSAC Outstanding Contribution award, and the rarely given ACM President's Award in 2007. In 2009 he received the prestigious CRA Distinguished Service Award, and in 2011 he was presented with a SANS Lifetime Achievement Award.
Professor Spafford has also been honored for his teaching, including receiving all three of Purdue's highest honors for education: the Outstanding Undergraduate Teaching Award in Memory of Charles B. Murphy, a Fellow of the Purdue Teaching Academy, and listing in Purdue's Book of Great Teachers. In 2001, he was awarded the Founder's Medal by the NCISSE, and in 2003, he received the IEEE Computer Society's Taylor L. Booth medal for his accomplishments in infosec education. In 2009 he was awarded UPE's ABACUS award for contributions to excellence in education.
Among many professional activities, Dr. Spafford is chair of ACM's U.S. Public Policy Council, is a Member-at-Large of the ACM Council, and is the Editor-in-Chief of the Elsevier journal Computers & Security.
Selected Publications
Shimon Modi and Eugene H. Spafford, "Future Biometric Systems and Privacy", chapter 6 in Privacy in America: Interdisciplinary Perspectives, edited by Willilam Aspray and Philip Doty; Scarecrow Press, Inc.; pp. 167-193; 2011.
Fariborz Farahmand and Eugene H. Spafford, "Understanding Risk and Risk-Taking Behavior in Virtual Worlds", chapter 4 in Security in Virtual Worlds, 3D Webs, and Immersive Environments: Models for Development, Interaction, and Management, edited by Alan Rea; Information Science Reference, IGI Publishing; pp. 59-71; 2011.
Benjamin A. Kuperman and Eugene H. Spafford, "Audlib: A Configurable, High-Fidelity Application Audit Mechanism", Software Practice & Experience, John Wiley & Sons; 40(11); pp. 989-1005; Oct. 2010.
Research Funding
Dongyan Xu and Eugene Spafford, An Integrated Architecture for Automatic Indication, Avoidance and Profiling of Kernal Rootkit Attacks, Air Force Office of Scientific Research, 4/1/2010-3/31/2013.
Elisa Bertino, Christopher Clifton, Ninghui Li, and Eugene Spafford, A Framework for Managing the Assured Information Sharing Lifecycle, MURI Program, 5/1/2008-4/30/2013.
Eugene Spafford, REU Site: Multi-disiciplinary Information Assurance and Security, National Science Foundation, 2/1/2011-1/31/2014.
Melissa Dark, Eugene Spafford, and Victor Raskin, Preparing Cyber Security Leaders, National Science Foundation, 8/1/2010-7/31/2014.
Last Updated: March 07, 2013 05:15pm
Contact Information
Office: REC 216C
Phone: 49-47825
Office: LWSN 1183
Phone: 49-47825
Fax: +1 765 49-63181
Send Mail
My Homepage