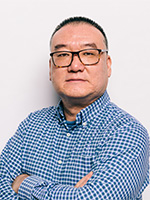 Ninghui Li
Associate Professor of Computer Science
Joined department: 2003
Education:
PhD, Computer Science
New York University (2000)
MS, Computer Science
New York University (1998)
BS, Computer Science
University of Science and Technology of China (1993)
Prof. Ninghui Li joined Purdue University in August 2003 as an Assistant Professor in Computer Science. His research interests are in computer security and applied cryptography, e.g., security and privacy in distributed systems, networks, databases, and electronic commerce, with a focus on access control.
Prof. Li has worked extensively on trust management and automated trust negotiation, which are approaches to access control in decentralized, open, and distributed systems. In his Ph.D. thesis work, he designed and implemented Delegation Logic, a logic-based language for distributed authorization. While at Stanford, he has designed, together with Professors John Mitchell and Dr. Will Winsborough, the RT Role-based Trust-management framework, efficient goal-directed algorithms to do distributed credential chain discovery, logic-based semantic foundations for security policy languages, and algorithms and computational complexity characterization for analyzing properties of security policies such as safety and availability.
Professor Li's recent research focuses on role-based access control, online privacy protection, access control policy specification and analysis, and operating system access control. He has graduated 2 Ph.D. students and are currently supervising 6 Ph.D. students. His research is currently supportted by 3 NSF projects and a project funded by IBM. In 2005, he was awarded the NSF CAREER award for proposed work on "Access Control Policy Verification Through Security Analysis And Insider Threat Assessment".
Professor Li received a Ph.D. in Computer Science from New York University in September 2000. Before joining Purdue, he was a research associate at Computer Science Department, Stanford University. He has served on the Program Committees of more than two dozen conferences and workshops in information security, including the IEEE Symposium on Security and Privacy, ACM Conference on Computer and Communications Security (CCS), the ISOC Network and Distributed System Security Symposium (NDSS), Internation Conference on Data Engineering, ACM Symposium on Access Control Models and Technologies (SACMAT), and IEEE Computer Security Foundations Workshop (CSFW).
Selected Publications
Ninghui Li, Ziad Bizri, and Mahesh V. Tripunitara, "On Mutually-Exclusive Roles and Separation of Duty", Proceedings of the ACM Conference on Computer and Communications Security (CCS), October 2004.
Ninghui Li, John C. Mitchell, and William H. Winsborough, "Beyond Proof-of-compliance: Security Analysis in Trust Management", Journal of the ACM, 52(3):474--514, May 2005.
Ninghui Li, John C. Mitchell, and William H. Winsborough, "Design of A Role-based Trust-management Framework", Proceedings of the 2002 IEEE Symposium on Security and Privacy, May 2002.
Research Funding
Elisa Bertino, Christopher Clifton, Ninghui Li, and Eugene Spafford, A Framework for Managing the Assured Information Sharing Lifecycle, MURI Program, 5/1/2008-4/30/2013.
Ninghui Li, TC: Small: Provably Private Microdata Publishing, National Science Foundation, 9/1/2011-8/31/2014.
Ninghui Li, Towards a Scientific Basis for User Centric Security Design, Army Research Office, 5/15/2012-5/14/2013.
Last Updated: February 07, 2013 11:46am