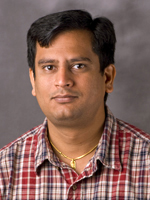 Ramana R. Kompella
Assistant Professor of Computer Science
Joined department: Fall 2007
Education:
PhD, Computer Science
University of California, San Diego (2007)
MS, Computer Science
Stanford University (2001)
BTech, Computer Science and Engineering
IIT Bombay (1999)
Professor Kompella's main research area is computer networks. Particular topics of interest include scalable inference mechanisms for fault localization in enterprise as well as backbone networks, scalable streaming algorithms and architectures for various router functions such as traffic measurement, attack detection, packet classification and fair queuing, and finally, designing resource-efficient scheduling algorithms in wireless networks. Many of his past inventions resulted in direct industrial impact. Prof. Kompella's dissertation research resulted in the development of sophisticated fault localization tools that can pin-point the location of the failure in large-scale backbone networks. These tools are used daily by a major Internet service provider in their backbone. Along with collaborators at Stanford, he helped pioneer hybrid SRAM-DRAM memory designs for high-capacity high-speed packet buffers in routers. Prof. Kompella's past efforts in industry included brief stint at Chelsio Communications Inc. in the design of a high-speed TCP offload engine and a packet-classification co-processor at SwitchOn Networks (acquired later by PMC Sierra).
Selected Publications
Di Xie, Ning Ding, Charlie Hu, Ramana Kompella, "The Only Constant is Change: Incorporating Time Varying Network Reservations in Data Centers", In ACM SIGCOMM 2012, Helsinki, Finland.
Cong Xu, Sahan Gamage, Pawan N. Rao, Ardalan Kangarlou, Ramana Rao Kompella, Dongyan Xu, "vSlicer: Latency-aware Virtual Machine Scheduling via Differentiated-frequency CPU Slicing,", ACM HPDC 2012, Delft, Netherlands.
Myungjin Lee, Nick Duffield, Ramana Rao Kompella, "Not all Microseconds are Equal: Enabling Per-Flow Latency Estimation Using Reference Latency Interpolation", in ACM SIGCOMM, New Delhi, India, 2010.
Research Funding
Ramana Kompella, TC: Small: Collaborative Research: Predictive Blacklisting for Detecting Phishing Attacks, National Science Foundation, 8/1/2010-7/31/2013.
Ramana Kompella and Dongyan Xu, NeTS: Small: Towards Exposing and Mitigating End-to-End TCP Performance and Fairness Issues in Data Center Networks, National Science Foundation, 8/1/2012-7/31/2015.
Ramana Kompella and Jennifer Neville, CISCO, Community Foundation Silicon Valley, 2/7/2011.
Jennifer Neville and Ramana Kompella, NETSE: Small: Towards Better Modeling of Communication Activity Dynamics in Large-Scale Online Social Networks, National Science Foundation, 9/1/2010-8/31/2013.
Ramana Kompella, CAREER: Towards a High-Fidelity Knowledge Plane for Data-Center Networks, National Science Foundation, 2/1/2011-1/31/2016.
Last Updated: February 07, 2013 11:46am