<!
On August 1, 2005, I gave an invited talk, "The Manifold Beauty of Piano-hinged Dissections", at Renaissance Banff: Mathematics, Music, Art, Culture, in Banff, Alberta, Canada. Although I had included lots of short video clips in my presentation, I thought that it would be fun to bring along a selection of some of my wooden models for demonstration. I left these on display on a table in the exhibition room, and stopped by every once in a while to encourage participants to "get the feel" of my models.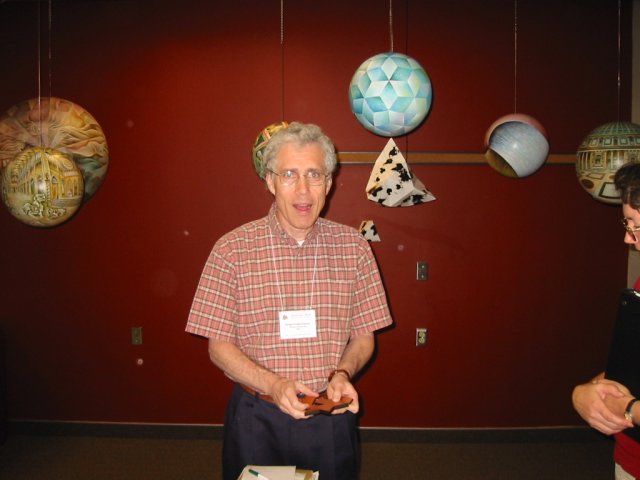 In the photo, I'm demonstrating how to fold a small hexagram into one third of a large hexagram. The model is out of cherry wood that was laser-cut by Walt Hoppe. Behind me are some of the lovely "Termespheres" that Dick Termes was exhibiting there.
---
Photo courtesy of Peter Hamburger. All else is copyright 2005, Greg N. Frederickson.
Permission is granted to any purchaser of Piano-Hinged Dissections: Time to Fold to print out a copy of this page for his or her own personal use.
Last updated August 15, 2005.