<!
Hint #1 for Bernard Lemaire's puzzle: dissecting a cross to a square
Bernard Lemaire wants you to find a 5-piece dissection of the following cross to a square.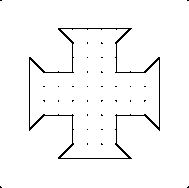 The first thing to do is imagine the cross on grid paper and count the number of little squares. You should find the area to be 49. This means that the square will be 7 on a side.
Play with that observation for a while, until you solve the puzzle or need a second hint.
---
Copyright 2002, Greg N. Frederickson.